Today, the first XI were due to play away at champions Denton St Lawrence while the 2nds would have been hosting Oldham 1sts.
Best first team batting performance at DSL belongs to Marty Walters in 2015, hitting 133, and there were 2 other centurions that day – James Wharmby (126) and Ryan Stanbury (124).
Best bowling was 41 years ago – when DSL were also then reigning champions. DSL were bowled out for 93 with Bob Hinchliffe's 7-37 return not being bettered since, aided by Cliff Trainer (3-44). Prestwich won that day by 6 wickets with Graham Mooney hitting 51 and Paul Gethin 28.
To continue the DSL connection, we take a fond lookback to the summer of 1984 and a glory day for the 2nd team in the Hulme Cup Final.
The following report was published in the Prestwich & Whitefield Guide on August 31st, 1984:
Prestwich second eleven realised their dream on Sunday when visiting first division side Denton St Lawrence, they won a thrilling cup final and became holders of the Hulme Cup for the first time at their third attempt.
Captain Terry Birtwistle won the man of the match award – although he lost the toss – with 2 wickets, 34 runs, and a fine day captaining the side.
Fielding first, Prestwich got off to a dream start, having the home side 0 for 3, after two overs.
Hinchliffe bowled the first ball of the final to Carling, a centurion of the previous day, and found the edge to Hodgkiss in the gully. Not to be outdone, Hodgkiss took two wickets with the last ball of the first over, Phillips turning one off his toes to Graham Ward at leg slip, and the next ball to Berry that stopped, and lobbed the ball back to the bowler.
Walton was next to go, caught off a leading edge at mid-on by Brian Hargreaves, but from 19 for 4, Melbourne and Ian Rathbone added 60 for the fifth wicket,the highest partnership of the day.
Alan Hargreaves bowled economically when he took over from Hinchliffe, but it was second change bowler Steve Ward who put the brake on, dismissing both batsmen and conceding only 11 runs in his 10 overs. Melbourne was excellently caught by Brian Hargreaves off a skier to deep mid-wicket.
Kirwin came in to hit Birtwistle out of the ground and only succeeded in hitting the highest shot of the day to Hinchliffe at mid-on.
Captain Stringer and Murphy then hauled Denton out of the mire, taking the score from 89 to 137 for the eighth wicket before Birtwistle had Murphy lbw. Hargreaves' perseverance paid off when he bowled Tatton but Rathbone added 21 with his captain to close the 50 overs at 164 for 9 wickets.
Rogers got a flier off Kirwin and could only parry it to leg slip and Hey looked to be settling in when Carling took a blinding catch at gully. From 21 for 2, Birtwistle and Morton took the score to 67, Morton showing the application that was needed with a very responsible innings and Birtwistle fairly hammering the loose ball, hitting six fours and a six before being bowled by John Rathbone's last ball.
Graham Ward was well caught at mid wicket, and Hodgkiss, as did Morton, played too soon at a ball that stopped on him.
Prestwich were in trouble at 85 for 6 but Brian Hargreaves joined vice captain Hughes and batted very positively, turning the game Prestwich's way with a positive 20, including the shot of the day through extra cover for four. When he fell, 44 were still needed with three wickets left but 'old hand' Hinchliffe joined Hughes and picking the ball to hit, took 3 sixes off Stringer in his 28 not out.
Hughes kept cool for most of the time and inbetween caution, hit 4 fours and a straight six, and Prestwich were home.

SCORECARD: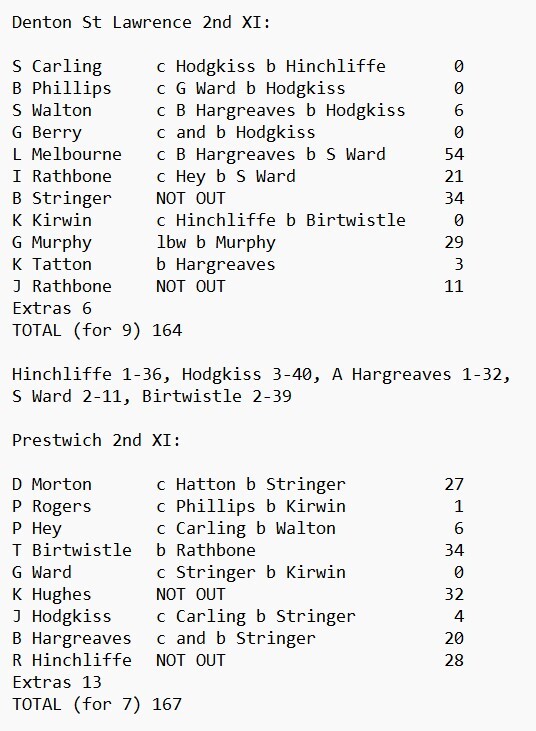 Photograph shows: (back row, left to right) D Morton, R Hinchliffe, G Ward, K Hughes, S Ward, T Birtwistle (capt), G Walker (12th man); (front row) J Hodgkiss, P Rogers, P Hey, A Hargreaves, B Hargreaves, scorer Miss N Wright.